Invisalign Prices and Payment Options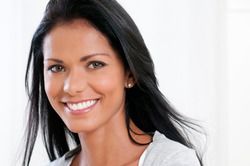 Invisalign® is the latest in orthodontics and is particularly appealing to adults who don't want to suffer through years of wearing metal braces. The treatment involves the use of a series of clear, comfortable, removable aligners that are very effective at re-aligning crooked or gapped teeth.
At Abilene Aesthetic & Cosmetic Dentistry in the Sweetwater area, we strive to offer superior and affordable dental care because we believe every patient deserves a beautiful smile. Let's review the costs, payment options, and benefits of Invisalign® invisible braces.
How Much Does Invisalign® Cost?
One of the first questions patients have about Invisalign® is, "How much does it cost?" Depending on individual cases and needs, the cost of Invisalign® treatment is comparable to traditional braces. Factors that will influence the cost of your treatment are case difficulty and complexity of teeth movement.
Unfortunately, most dental insurance plans won't cover the costs involved in Invisalign® orthodontic treatment. We accept other payment options, including CareCredit (a healthcare credit card that you can apply for online), major credit cards, Flexible Spending Accounts (FSAs), personal checks, and cash.
For an exact price quote, we invite you to schedule a consultation. After your consultation, we will be able to outline the costs of your specific treatment plan and determine if your insurance will cover any portion of it. We would be happy to discuss which payment options might be best for you.
Is Invisalign® Worth the Cost?
As you explore treatment options, we encourage you to keep in mind that orthodontic treatment is a long-term investment. The choice you make today will have a big impact on your overall satisfaction with the treatment. Both traditional braces and Invisalign® can provide you with a straighter, healthier smile, but your experience will be quite different depending on which method you choose.
With regular braces, patients often suffer pain, discomfort, sores, tooth decay (from difficulty brushing and flossing), plaque, tooth discoloration, and difficulty eating. And having metal brackets and wires means you have to give up some of your favorite foods, such as popcorn, bagels, nuts, apples, carrots, corn on the cob, and more.
Unlike traditional braces, Invisalign® doesn't interfere with how you live your life. The clear aligners are virtually invisible and are made from smooth, comfortable plastic that is easy to clean at home. Plus, the aligners are removable, so you can eat and drink whenever and whatever you want, and brush and floss your teeth normally. And because you will only need to come into the office every four to six weeks, Invisalign® is great for patients with busy schedules.
Let's not forget the overall dental health benefits of having correctly aligned teeth. When teeth are crowded or widely spaced, the gums aren't able to securely fit around the teeth, creating more opportunity for bacteria, plaque, tooth decay, tender or bleeding gums, and possible tooth loss. Studies even show that oral infections can lead to more serious conditions, such as heart disease and stroke.
When teeth are properly aligned, the gums fit more securely around the teeth and provide a stronger defense against gum disease. Invisalign® aligners make daily brushing and flossing easier than with traditional braces, and your straighter teeth after treatment can reduce your risk of those other health problems.
Learn More about Invisalign®
A well-known sedation and cosmetic dentist in the Abilene/Sweetwater area, Dr. Simpson has the skills and experience to provide you with the best quality results. If you are considering Invisalign® treatment, we invite you to contact our office today!
Related to This